Keeping mobile in a lockdown
April 16, 2020
This story is a small one, insignificant compared to a worldwide emergency, a candle compared to the noonday sun. This is not a story of woe; my family has been lucky, virtually untouched by the pandemic (and my heart goes out to health care workers, grocery store staff, and others that are on the front line of this battle). It is, rather, a vignette of how everyday life has been changed by COVID-19. I hope it will be amusing, ideally informative, and maybe nothing more than a brief and much-needed diversion from the extraordinary event that occupies nearly all of our field of vision.
My job is to fight climate change - specifically, to make Guelph net zero carbon by 2050 if not sooner. I keenly feel the need to set an example. "Be the change that you wish to see in the world," Mahatma Gandhi urged. When I moved from a countryside hamlet into the city five years ago, one reason was to heed Gandhi's plea. Soon after, we were a two-car family no more. I'd traded in my Mazda 3 for a bike, swapped driving Route 124 for biking the Speed River trail system, and given up dodging impatient country road drivers for weaving around geese (and their droppings) in Riverside Park.
Not enough.
Every time I looked at our remaining vehicle, an aging Toyota Sienna minivan, I cringed. Every time I fired up the engine (which was seldom, since my wife is the driver of our household now), I winced. Every time I filled the tank with the reeking fluid remnants of plants and animals from aeons ago, I grieved. I was still part of the problem.
However, it's a tough call to cut and run. We came close a year before, after test driving a Nissan Leaf at the Plug 'n' Drive Electric Vehicle (EV) Discovery Centre in North York. We learned that you could get a $1,000 incentive for buying a used EV - a more realistic proposition than a new Leaf, and much more realistic than a Tesla Model Y (my wife's dream car). However, we loved the look of the new model year Leaf and hated the old. It would be quite a while before any of the former appeared in Auto Trader, so we would wait.
Fate intervened.
Early last month our van was written off. One of my wife's colleagues scraped the side of it while backing into a parking space at the school. The gouge extended across all four side panels - quite the feat. Together with another wound on the other side - I'd caused that one, truth be told, and had been procrastinating about getting it fixed - our insurer declared the van a writeoff. We found ourselves plunged into the car market just as a plague descended to earth.
To keep us mobile while we shopped for a replacement, our insurer provided a rental car. It was a Hyundai Kona, a cute crossover and a relatively new kid on the automotive block. My wife loved it. She spoke idly of getting one instead of another minivan - most of our brood had left the nest, after all - but when she learned there was an electric version, the talk went from idle to high gear (an expression that the coming EV tsunami will render as quaint as "dialling" with a smartphone).
She read reviews praising the Kona EV (see photo, courtesy Hyundai Canada) as a crowning engineering achievement and naming it "Leaf Killer", and she was sold. She started shopping, eyeing the remaining days on the rental, vowing to score a sweet deal and hop right out of the rented gasmobile Kona into our very own battery electric one. We saw an Auto Trader ad posted by a dealership in Burlington. It was exactly what we wanted, so we booked the test drive appointment, and made the trip.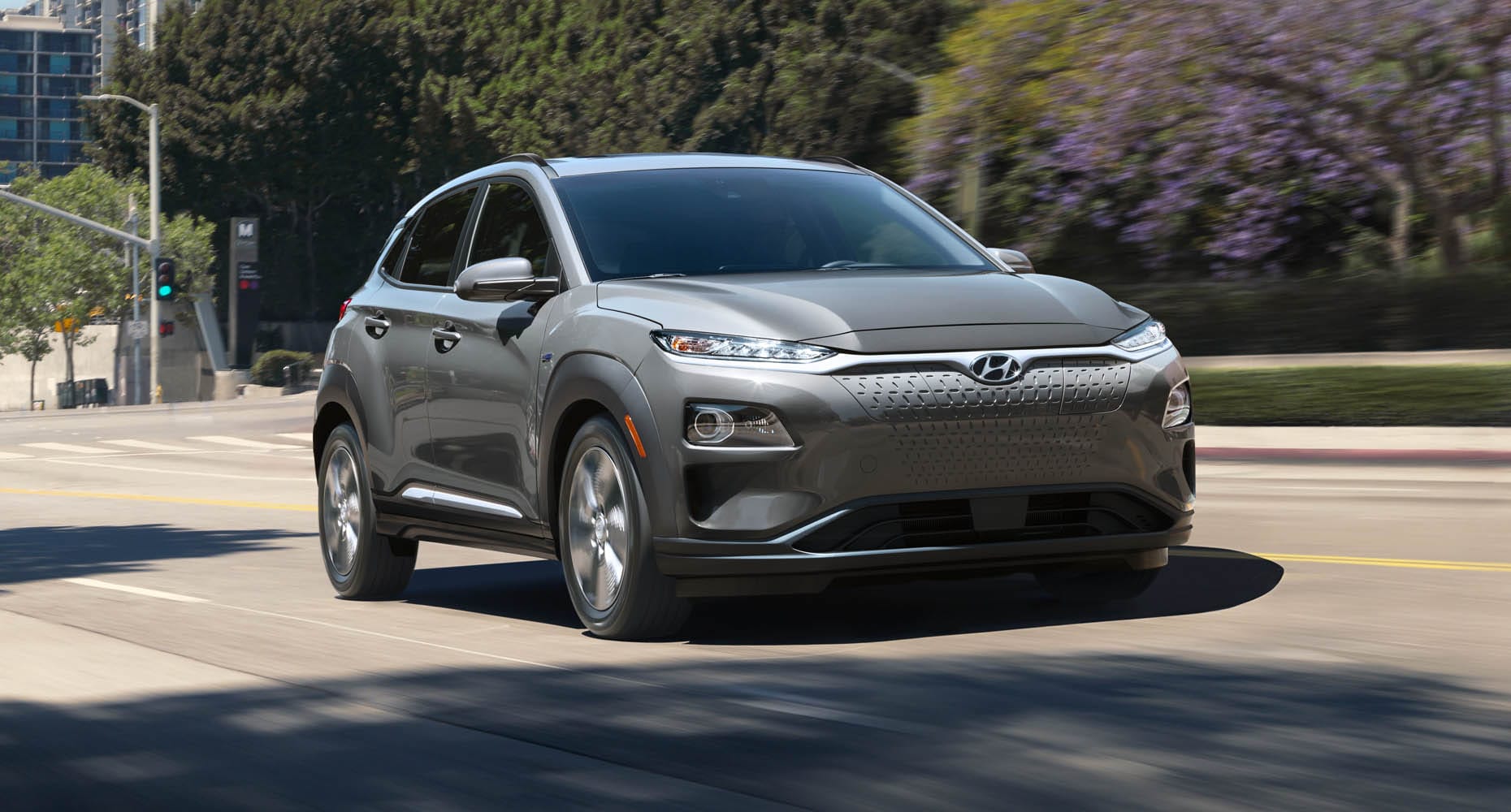 The test drive was a dream. I decided to check out the acceleration as we headed down the QEW on-ramp, and it was peppy enough that my wife squawked my name in alarm. Changing lanes was a delight. The car felt glued to the road, since the batteries - the majority of the vehicle's weight - are distributed along the underside, making it very bottom heavy. The minimal sound it made was straight out of Star Trek. While stopped at a traffic light, we were acutely aware of the engine rumble from a car beside us - not Cousin Cleetus in his rusty jalopy, but the late model Lexus SUV that seems to be standard issue in affluent Burlington. Most of the test drive was reserved for my wife, since she drives the most. She loved it, especially the one-pedal driving that you can do when you amp up the regenerative braking. We were ready to sign a deal on the spot.
Not so fast.
Shopping for an EV is not like shopping for an Internal Combustion Engine (ICE) vehicle, we soon learned. Apparently, by seeing the ad and thinking the dealer actually had one available to purchase, we were being hopelessly naive. The salesman, standing several COVID-respectful paces across the showroom, explained that the waiting list was over a year long. The ad neglected to mention that there were none in stock. The ad neglected to mention a waiting list. (Check out the ad here - Am I overreacting, or under-observing?) We felt hoodwinked.
He'd be pleased to take our order of course, but wouldn't we much prefer to have the gas version and drive it off the lot then and there? He then went on to say that, of course, if you buy an electric this year, they'll be even better next year, and even better the year after, so the best thing to do is lease a gas one while you wait for things to level off. I started to argue with the guy, noting that computers or smartphones also get better every year, but that was a goofy reason to hold off on getting one. My wife gently touched my sleeve and whispered that it was pointless to argue with him. She was right.
Our salesman was pulling the classic bait-and-switch tactic. Tease the customer with pictures and loving descriptions of the car they really want. Entice them into the showroom and offer a test drive. Then, when they decide to buy, act surprised and explain that, of course, the one they just drove is already sold. Oh, good heavens no, the waiting list for their dream car is two human gestation cycles long. But wait, great news, we have one that's almost the same, right here on the lot! It runs on gasoline, but everything else is identical. And you're in luck, we have a special zero-percent financing if you sign today!
The last thing most car dealers want to do is sell you an EV. It's true that wait times are long; manufacturers simply can't keep up with demand and for some reason they haven't done the obvious thing and radically ramped up production. Wait times aside, dealers don't push EVs hard because profit margins are much lower than for the ICE equivalent. Dealers also don't make any money on maintenance for EVs - no oil means no oil changes. No transmission means no transmission fluid flush-and-fill. No radiator means no radiator fluid top-ups. No fan belts. No alternator. No distributor cap. No head gasket. None of the parts whose names ICE owners have learned to dread after seeing them listed on a repair bill.
An ICE vehicle has over 2,000 moving parts in the drive train. A Tesla Model S, by comparison, has 20. As EV owners will attest, maintenance isn't really a thing for them. Wiper blades, yes, wiper fluid, true, and of course tires, but that's about it. Enough to make any grease monkey start doubting his career choice.
We had a line on another Kona EV - an honest-to-goodness, on the lot, ready to be bought, non-phantasmal Kona EV. It was the exact trim and colour we wanted. It was used, but only had 1,500 kilometers on it. Truth be told, we'd already pretty much made up our minds to buy it, even though sight unseen - the dealer was in Edmonton and the car would have to be shipped. Still, we were open to the Burlington option. We felt some guilt going ahead with the test drive. The salesman's approach erased that. Karma, baby.
The Edmonton dealership gave us an experience completely opposite to the Burlington one. Their sales agent made a complete walk-around-walk-through video and posted it on YouTube. (We thought it was generic, until the end of the video when he thanked my wife by name for her interest in the car.) They gave us the complete run-down on the prior owners, who decided they just weren't ready for an EV after putting barely enough mileage on the vehicle to go to Calgary and back. The dealer organized the shipping. The document signing was a headache - clearly, and understandably, they were far more used to doing that in person - but before too long it was all settled.
The shipper tells us that the car is due to arrive in Toronto tomorrow. It will be loaded on a truck and delivered to the Hyundai dealership here in Guelph early next week. Then a mechanical inspection (necessary to register it in Ontario), some form-filling with the Ministry of Transportation and our insurance company, and a Kona EV will be ours.
We've decided not to get a charger, or "Electric Vehicle Supply Equipment" to be jargonally correct. My wife's daily round-trip commute is 13 klicks, not enough to put a dent in the Kona's 415-kilometer range. A standard outlet should be enough to keep it topped up. If we find ourselves in dire need, we can always zip down to the Market Parkade and plug it in to one of the Type-2 chargers there. The only long-distance road trip we typically make is to visit the grandparents in the Trenton-Belleville area, comfortably within the car's range.
Of course, the story's not over. I'll have more to tell after the car arrives, and we learn whether the shipper avoided any dents and scrapes, whether the hand-off goes smoothly, whether registering the car will become a bureaucratic boondoggle when government offices are closed and civil servants struggle to shift their standard operating procedures to pandemic mode, and whether life with an EV will be everything we hope.
But I'll keep you in suspense for now. Join me again in a month and I'll tell you how it all turned out. In the mean time, stay healthy.
Alex Chapman
Executive Director, Our Energy Guelph